2.6
Cedar City Ward Relief Society, Minutes, September 10 and December 10, 1857, and March 11, 1858
Cedar City Ward Relief Society, Minutes, Sept. 10 and Dec. 10, 1857, and Mar. 11, 1858; Cedar City Ward, Parowan Stake, Relief Society Minute Book, 1856–1875 and 1892, pp. [18]–[19], [21]–[22], [24]–[26], CHL (LR 1514 22).
See images of the original document at dcms.lds.org.
---
On November 20, 1856, ninety-five women assembled in the local "tabernacle" as stake president Isaac C. Haight organized the Cedar City, Utah, Relief Society. At that meeting, with "most of the ladies of Cedar" present, Lydia Hopkins was voted president. Hopkins chose Annabella Sinclair Macfarlane Haight, a plural wife of the stake president, as her first counselor; Rachel Taylor Whittaker as her second counselor; and Ellen Whittaker Lunt, Whittaker's daughter, as secretary.1 Following four weekly meetings, the group met monthly, usually on Thursday afternoons, from January 8, 1857, until April 14, 1859. The society was reorganized in 1868 under a new presidency; Lunt continued as secretary, a position she held until 1879.2
In November 1851, four months before Henry Lunt married Ellen Whittaker, he led the first company of Latter-day Saints in founding Cedar City. Located 250 miles south of Salt Lake City, the settlement was part of the Latter-day Saints' "Iron Mission," a project conceived by church leaders in the spring of 1850 to establish agricultural outposts and an iron works in the red rock desert along the anticipated line of Mormon settlements between Salt Lake City and San Diego.3 Reserves of iron ore, close proximity to beds of coal, and the selection of English, Irish, Scottish, and Welsh miners and iron workers as colonists initially lent promise to the enterprise, but ultimately it produced little quality iron. Suspension of the iron works in October 1858 followed years of hard winters and famine from drought and insects.4 As a result of these circumstances and the shadow cast by the 1857 massacre at nearby Mountain Meadows—in which settlers, along with American Indians they recruited, slaughtered approximately 120 members of a wagon train traveling from Arkansas to California—many colonists abandoned Cedar City for more attractive settlements.5 This may help explain the end of recorded Relief Society meetings in 1859.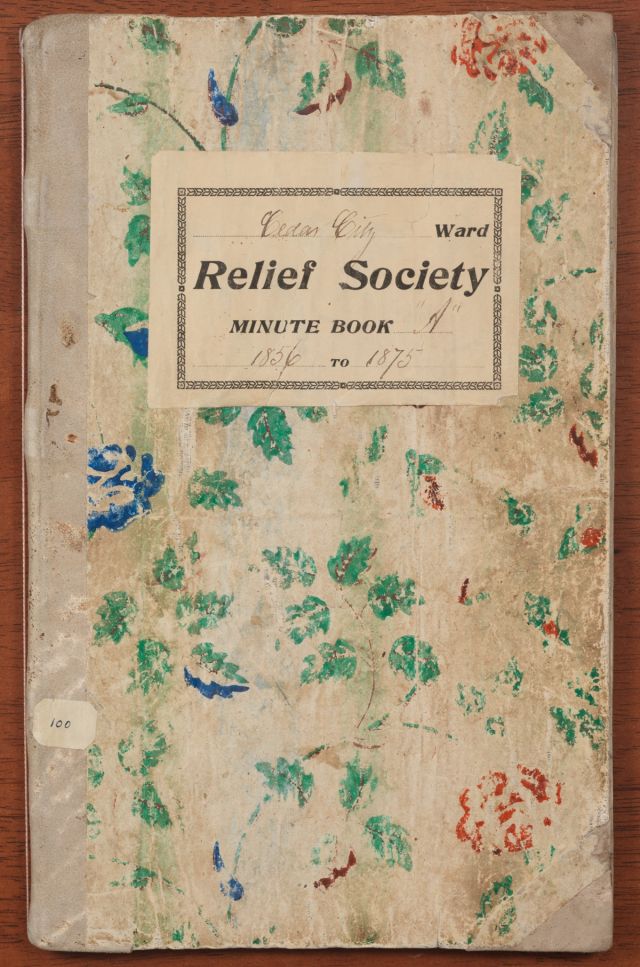 Ellen Lunt's minutes of three Cedar City Relief Society meetings—out of a total of about two dozen recorded between 1856 and 1859—are featured here. The first featured meeting occurred on September 10, 1857, a day before the Mountain Meadows Massacre and while the emigrant company was already under siege. While the situation is not explicitly addressed, the minutes refer to the tension and to the militiamen from Cedar City who were "out acting in our defence." The other two meetings included here are dated December 10, 1857, and March 11, 1858.
As the Cedar City Relief Society Minute Book is one of the few surviving Relief Society minute books from the 1850s, these selected minutes are featured to demonstrate some of the operations and concerns of a local society. The organization of the Cedar City society reflected that of the Nauvoo Relief Society, with a presidency, secretary, and treasurer, and a corps of teachers charged with visiting the poor to ascertain their needs. The teachers also reported their instructions to women regarding obedience, orthodoxy, chastity, cleanliness, and prayer—some of the key principles emphasized during the 1856–1857 Mormon Reformation.
---
September 10, 1857 • Thursday
Met according to appointment 2, o, clock p.m. Thursday Sepr 10th 1857. Opened the meeting by singing, Prayer by Sister Lunt, Singing 〈Minutes read and approved〉 Sister Hopkins called for the teachers report Sister Pugmire and sister [Alice] Randle said that the sisters manifested a good spirit and seemed to be improving, that they encouraged them to live their religion, and to continue to improve. Sister Liston said that she with sister [Mary] Mc Connell had visited the north line,6 and that they they found the sisters doing pretty well, that they instructed them in cleanliness economy &c. felt highly pleased with the sisters as a general thing Sister Willis and Sister Haight said that they found things generally to their satisfaction taught them the necessity of being obedient to their husbands &c—7 and not to be fearful in these troublesome times but to be prayerful and attend to their duties. Mother Whittaker and Sister Annabella found the sisters generally enjoying a good spirit, that they felt to rejoice in visiting the sisters & that they felt the sisters were improveing in all things Sister Haight said that the sisters enjoyed a better spirit than they did eight or nine months ago,— said that these were squally times, and we ought to attend to secret prayer in behalf of our husbands, sons, fathers, & brothers. instructed the sisters to teach their sons & daughters the principles of righteousness, and to implant a desire in their hearts to avenge the blood of the Prophets.8 Sister Hopkins said that she with sister White had visited the sisters in the middle lines, that they felt well and manifested a good spirit, and was desirous to do well, and to improve,— advised them to attend strictly to secret prayer in behalf of the brethren that are out acting in our defence.—9 The Presidency gave some good instructions to the sisters, which if adhered to, would tend greatly to their benefit.— Sister Liston & Sister Mc-Connell were appointed to visit the East line. Sister Pugmire and Sister Randle the Middle lines, Sister [Mary Ann] Harrison and Sister White the South line. Sister Mc-Murdy [Mary Ann McCurdie] 〈& Sister [Barbara] Morris〉 the West line. The Presidency would take the North line. Sister Eliza Ann Haight & Sister Willis the Iron works & the new City.— Sung—Oh how glorious will be the morning &c.—10 Sister [Celestia] Durfee, Sister Wilden, Mother [Barbara] Morris, Sister [Terressa] Chamberlain, Sister Randle & Sister Jane Bosnell bore their [p. [18]] testimony and felt to rejoice that the time of our redemption was drawing nigh. It was moved and carried, that Margaret Bateman Hannah K Smith [Klingensmith], Hannah Micholston [Ane Mickelsen] become members of this Society. Sister Hopkins said the bell would be rung half an hour before meeting time for the future.11 Singing. Benediction by Sister Mary Willis. Adjourned till 2 o clock p.m. Thursday Octr 8th 1857. Ellen Lunt—Secretary … [p. [19]] …12
December 10, 1857 • Thursday
Met Pursuant to adjournment 2 o clock p.m. Thursday Dec 10th 1857. Present, Bishop Smith [Phillip Klingensmith], & Elder Henry Lunt. Opened the meeting by Singing Prayer by the Bishop. Singing. Minutes read & accepted. Sister Haight called for a report from the teachers. Sister Pugmire & Sister Randle reported the Sisters on the South line as enjoying a good spirit and doing the best they could. they didn't feel to find any fault with them but felt well with improvement some of them had made, Sister White and Sister Mary-Ann Harrison spent a pleasant day in visiting the sisters on the West line, who were enjoying a good spirit and felt content with their lot, and desirous to live their religion. Sister Liston said, through circumstances unavoidable they didn't visit the Sisters this month, but she felt desirous to do right & to do her duty in all things. Sister Morris said they found the sisters on the north line, doing well and enjoying a good spirit. Sister Eliza Ann Haight said that like Sister Liston they had been prevented from visiting the sisters through circumstances &c. Mother Whittaker & Sister Annabella found the sisters on the East line glad to see them they were enjoying a good spirit but like the rest of the sisters on the other lines as the teachers had reported, were destitute of clothing, they advised the Sisters who had plenty, to cultivate a liberal spirit and administer to the poor, also for those who didn't know how to learn and manufacture their own clothing. Bishop Smith then said, it was some time since he was here before but he thought he would come to day said he was well pleased with this Society and the reports given, and that the sisters felt about right. Spoke on being destitute of clothing, said that it was quite right, and that it was good for us, but there was always a way opened when it was most needed.— Spoke considerable on home manufacture etc. Bro Lunt then arose, and made some very appropriate remarks, spoke on cleanliness, and a many other principles of the Kingdom and said that the sisters would do well to adhere unto the counsel given by the Bishop.— Sister A Haight felt to rejoice in what the brethren had said & exhorted the sisters to listen to the teachings and act thereupon. appointed the teachers to visit the same lines this month as they did the last. but if it was bad weather they needn't go round and it was expected the sisters would do their duty whether the teachers went round or not [p. [21]] It was moved and seconded that Mary-Ann Lunt, Agnes Easton[,] Catherine Whittaker, & Louisa Hunt become members of this Society, carried unanimously. The Bishop again arose, and acquiesced in what Sister Haight had said and encouraged the Sisters to go on in the good work Sister Randle spoke on the wants of the treasury. closed the meeting by singing Benediction by Elder Lunt. Adjourned till 2 o clock p.m. Thursday January 14th 1858
Ellen Lunt—Secretary … [p. [22]] …
March 11, 1858 • Thursday
Met again at the appointed time & place, 2. o. clock p.m. Thursday, March 11th 1858. 〈Sister Hopkins, Presided.〉 Opened the meeting by singing. Prayer by Sister Ann White. Singing.— [p. [24]] The president called for the teachers report. Sister Pugmire and sister Randle reported the Sisters on the west line feeling well, and manifested a good spirit, and were trying to do the best they could. Sister Harrison & Sister Lund found the sisters on the north line endeavouring to live their religion and most of their habitations were nice and clean. Sister Morris reported the sisters in the middle lines, doing well, with few exceptions, had no fault to find with them. Sister White and sister Mc-Connell found the sisters on the East line enjoying a good spirit, and they believed the sisters were improving Sister Haight & Sister Willis found the sisters in the new City enjoying the good spirit of the Lord, but she didn't find them so well supplied in clothing. Sister Hopkins with sister A Haight & Mother Whittaker enjoyed their visit to the sisters on the south line very much. found them enjoying a good spirit generally, and trying to live their religion. counselled the mothers to instruct their children in every good thing. Sister Haight said she would like for those who understood home manufacture to teach those that didn't.13 Spoke on bringing some patches to the treasury that there might be some covers made for the benefit of the poor that she wouldn't like to be a whit behind any other society in the mountains. Spoke considerable for the benefit of the sisters. Mother Whittaker said it was rejoicing to her to see the progress the sisters were making in this Society. counselled the sisters to be cautious how they spoke one of another. The President then gave the sisters the privilege to speak their minds. Sister [Roxsena] Patten said she wished to be one with us and whilst sitting down she had been reflecting on the scenes she had witnessed in Nauvoo. Said that she had long been deprived of the privilege that we now enjoyed.14 Sung Come Come ye Saints &c.—15 Sister Annabella said that if any of the sisters thought of any thing that would tend to the further advancement of this society she would like to hear it. counselled them to speak their feelings and not be backward. Mother Morris bore her testimony also Sister Lynn. Said they desired to do the will of God, and to keep his commandments. Mother Willis & sister William [Ann] Haslam also bore their testimony Sister Hopkins said she would like to hear the sisters speak that had lately come in if there were any present. Sister Corey [Margaret Corry], Mother [Mary] Hunter, Mother [Ellen] Muir, Mother [Cynthia] Benson, Mother [Margaret] Bateman, & Mother [Ann] White bore their testimony and felt glad and thankful that they were here Mother Simpkins also bore her testimony and spoke in tongues. Sister Hopkins then called on sister Lily [Margaret Lillywhite] [p. [25]] who bore her testimony & expressed her thankfulness that she was gathered to the valleys of the mountains. It was moved and seconded that the following sisters become members of this Society. Sarah Urie, Elizabeth Haight, [blank] [Margaret] Keys, Roxsena R Patten, Margaret Lily, Emma Walker, Mary Lapworth. unanimously carried. Sister A Haight exhorted the sisters to not forget home manufacture. Sister Patten again spoke and expressed her feelings regarding this. Sister Hopkins informed the sisters where the treasury was and said if they had any patches or anything else to spare to take them there. Singing. Benediction by Sister Annabella Haight.
Ellen Lunt—Secretary [p. [26]]